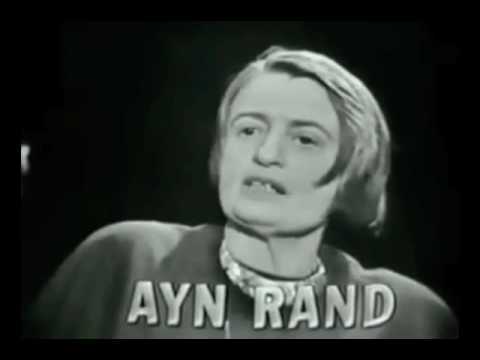 Yes, you heard me right. Ayn Rand was on welfare. My co-Rand hater
Cynical C
found this fascinating article by
Patia Stephens
. Her piece is not the most well documented, but it's pretty revelatory about Mrs. Objectivism Psycho herself.
Critics of Social Security and Medicare frequently invoke the words and ideals of author and philosopher Ayn Rand, one of the fiercest critics of federal insurance programs. But a little-known fact is that Ayn Rand herself collected Social Security. She may also have received Medicare benefits.
An interview recently surfaced that was conducted in 1998 by the Ayn Rand Institute with a social worker who says she helped Rand and her husband, Frank O'Connor, sign up for Social Security and Medicare in 1974.
Federal records obtained through a Freedom of Information act request confirm the Social Security benefits. A similar FOI request was unable to either prove or disprove the Medicare claim.
Between December 1974 and her death in March 1982, Rand collected a total of $11,002 in monthly Social Security payments. O'Connor received $2,943 between December 1974 and his death in November 1979.
I don't have a problem with the concept of a writer/philosopher being on welfare. It's actually pretty smart and dedicated. If you want to go through your novels with monk Zen and focus, welfare is the way to go. But Ayn Rand didn't like welfare. She thought someone who worked to pile up wealth should be entitled to keep it and not share. And yet, she used the wealth of others for eight years of her life.
Again, I don't have a problem with the idea of Rand getting help to pay her hospital bills. Decrying this would be to fall in her game of hatred. I can point and laugh though. Another hardcore intellectual who built a system she cannot live up to. And yet some people as deranged as her are ready to follow the rules of Objectivism on bloody stumps through the snow. I hate systems, I hate narrow-minded fucking rule sets...and yet, I don't hate Ayn Rand. She was batshit crazy. I only hate those sheepish people who can't use their common sense when reading some philosophy. You can gain knowledge by reading books, but you cannot gain, or buy, or loot common sense. It's something you can only decide to use.