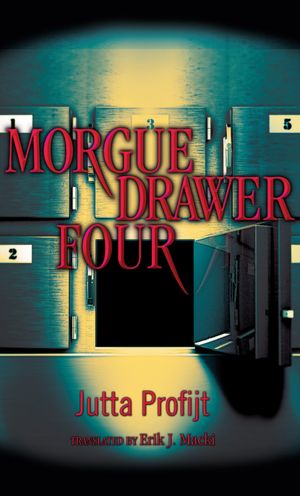 Country:
Germany
Genre:
Crime/Police Procedural
Pages:
231
"Sacha" Martin whispered.Of course he could have no way of knowing that I changed the first letter of my name from S to P ever since that schlocky TV show with that guy named Sascha on it, and so now I go by Pascha. Nothing to do with Turkish brothels. I was nice enough to explain this to him.
Until very recently, I didn't know who Jutta Profijt was. I didn't even know Germany had a crime fiction scene. Thanks to a nice publicity woman who is very on-the-ball about what she does, now I know and you will soon all know about this lady of crime fiction that deserves your attention for at least a few minutes. MORGUE DRAWER FOUR was short listed for the Friedrich Glauser Award for best crime novel in 2010 and reading it, one can understand why it would've struck a nerve with any jury. It's a funny and completely unconventional novel about themes that have been beaten to death, thanks to the invasion-of-Poland marketing plan that the CSI franchise have been pulling on us for the last eight years. But yeah, you heard me. MORGUE DRAWER FOUR is a fresh spin on things that makes me almost long for more police procedural fiction. The key word here being "almost".
It's a crime novel, but the beauty of it is that it's also a ghost story. Because the narrator Pascha is dead. He's been murdered or at least he think he has been. He fell from a high point while shitfaced drunk and remember being pushed. It's as unreliable as it gets for a testimony, but nonetheless he will convince the coroner Martin Gänsewein to take a look into the case. Most people would require a lot less than a ghost to do so. To give Pascha some credit, the investigation has been closed very quick and the circumstances of his death are questionable. Pascha was a car thief and during his last job, he found out that there was a body in the trunk of the car he was driving. After getting over the initial shock of being haunted by the ghost of one of his clients, Martin decides to give this case a shot, based on Pascha's allegation. Not the most rational move, I know but would you have done better in his place?
The weird thing about MORGUE DRAWER FOUR is that its main strengths also becomes its weaknesses at a some point. It's humor, for example. It's often rooted in Pascha's peculiar way of seeing life, which transpires a lot in his speech. While it's hilarious at first, the form of MORGUE DRAWER FOUR often gets in the way of Pascha and makes his best aspects more and more difficult to bear. The chapters are long and winding and Pascha is narrating many scenes. It gets excruciating to read, about a hundred pages in. I would've loved this sharp, fast paced speech in very short chapters. Forty-something pages narrated through his frantic vision get from funny to tiring quicker and quicker. It's too bad because Jutta Profijt really nailed the speech of a street youth. She has an ear for vernacular. Pascha speaks like a young thug would and it's an impressive feat considering that most crime protagonist talk like severely depressed philosophers.
What planet had I landed on? You drink tea when you're sick. I mean, really sick. Really suffering. Puking and the runs and all that. And the first thing you try is actually Coke, everyone knows that. But when the cholera or whatever causes such messy business has been sticking around for a while, then you switch to tea. In the face of death, and definitively not together with a chick on your couch before you get down to business.
Please, take my frustrations with a grain of salt here. MORGUE DRAWER FOUR was a fun read. It changes the pace from the ever-so-serious world of crime fiction. It's nice to read someone who has been doing some thinking outside the box. While it's been interesting, I know Jutta Profijt is releasing a sequel soon and I'm not sure MORGUE DRAWER FOUR convinced me to give it a shot. I don't know where Pascha and Martin could go from there without falling into the ridiculous. I know their relationship is ridiculous to begin with, but it has this over-the-top, not-so-subtle charm that the Hammer Production movies had. Solving Pascha's murder is something, but being a supernatural crime fighting team, I'm not so sure about that. But hey, by all means. Take a look at MORGUE DRAWER FOUR if you're aching for a change of pace in your reading. It's in a category of its own. It's enjoyable (and short), but I just don't think this is going to turn into a winning recipe.
THREE STARS